List of Yearly Events
April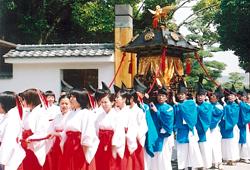 First Sunday in April
Goshinko Festival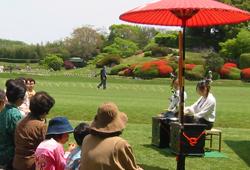 Fourth Sunday in April
Yosai Tea Ceremony
An event that began in 1933 to honor Yosai Zenji, a priest and tea master from Okayama.
Large tea festival held in the prefecture's five main styles.
Sponsor: Yosai Zenji Appreciation Committee, The Sanyo Shimbun
May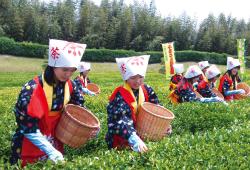 Third Sunday in May
Tea Picking Festival
10:30 a.m., 11:30 a.m.,
1:30 p.m.
Each session lasts about 20 minutes.
An event that has been held since 1956.
You can enjoy watching the members of the Tea Picking Dance Preservation Society, based in Kaita, Mimasaka City, one of Okayama Prefecture's tea growing regions, demonstrating traditional tea picking and tea picking dance.
Pretty young ladies wearing a deep blue kimono splashed with patterns, red straps, gloves, leggings, and a cloth tied around their heads carefully pick each new leaf from the tea plants. You can also try picking tea yourself.
June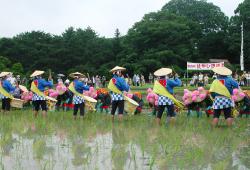 Second Sunday in June
Rice Planting Festival
11 a.m., 1 p.m.
Each session lasts about 1 hour.
This event first began in 1962.
You can enjoy watching traditional rice planting by hand and a rice planting dance demonstrated by the members of the Rice Planting Preservation Society, based in Tessei Town, Niimi City in Okayama Prefecture, and the members of the Kohjiro Folk Song Preservation Society.
Young ladies called "Saotomes", wearing deep blue kimonos splashed with patterns and straw hats, plant rice seedlings with an upbeat tempo, accompanied by a group of male drummers and singers called "Sage".
July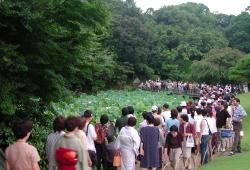 First Sunday in July
Kanrensetsu (Lotus Flower Viewing)
Kanrensetsu: 4 a.m. to 8 a.m.
Kanrensetsu is an event in which the gardens open early so that you can enjoy the blooming of the lotus flowers, and it began in 1956.
In Korakuen, you can enjoy looking at the beautiful lotus flowers of Ittenshikai or "universe", a type of white large-flowered plant, and Oga lotus flowers.
In addition, at the Enyo-tei House, you can enjoy a koto concert, or, for a fee, you can take part in a tea ceremony and eat light meal.
You can buy tickets in advance for comprising a set comprising of garden admission, tea ceremony ticket and dim sum voucher, at Tsuji-rien and Joshouen, which are tea dealers in Okayama City.
August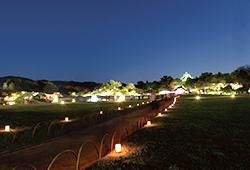 August
Special Late-Night Garden Opening;
Garden of Dreams
Garden closing time is extended to 9:30 p.m.
Enjoy the garden illuminated with lights and candles in a fantastic manner.
September, October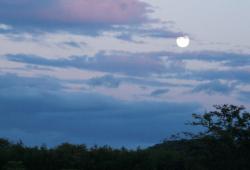 August 15 in the old lunar calendar
Moon Viewing Ceremony
Garden closing time is extended to 9:30 p.m.
Since 1956, this ceremony has been held on the day that the harvest moon appears (August 15 in the old lunar calendar).
The garden closing time is extended to 9:30 p.m. for this event, in which you can enjoy gazing at the harvest moon from within the garden.
Although it is a metropolitan area, you can watch the harvest moon slowly rising over the mountain ridge without being obscured by buildings at all.
You can go onto the lawns (something that is not normally permitted) after 5 p.m. and enjoy a koto concert and tea ceremonies at Enyo-tei House. You will need to purchase a ticket in advance for the tea ceremony.
You can buy two tickets for admission to the gardens and for the tea ceremony as a set from tea dealers in Okayama City.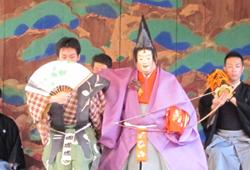 First Saturday in October
Noh Appreciation Meeting in Okayama Korakuen
Noon to 4 p.m. (Starting time may vary depending on the program)
This meeting has been held since 1992 to promote and spread Noh theatre, a traditional Japanese art.
The plays are accompanied with explanations so that that even those attending for the first time can understand what is happening, making this truly a meeting to appreciate Noh, just as the name suggests.
Sponsor: Okayama Prefecture Provincial Culture Foundation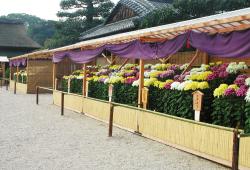 Late October to Mid-November
Okayama Korakuen Chrysanthemum Exhibition
About 450 pots of chrysanthemums, grown by the prefecture's chrysanthemum lovers, are on display. A wide variety of flowers of various hues, including Japanese chrysanthemum, small-flowered chrysanthemum, and miniature chrysanthemum, bring color to Korakuen and impart their fragrant aroma.
Sponsor: Okayama Prefectural Government, Okayama Prefecture Chrysanthemum Promotion Committee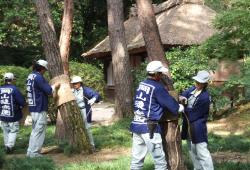 Late October
Pine Straw Wrapping
9:30 a.m. to 3:00 p.m.
This is a method of exterminating pests that has been employed since ancient times. It uses the fact that pests tend to come down from the branches and go onto the ground to get through the winter.
Straw wrapping is placed around the trunks of each pine tree in the garden to guide any pests into that wrapping.
In the following spring, before Keichitsu, one of the 24 solar terms that originated in ancient China, the straw matting is removed from the trunks and burnt, thereby disposing of the pests inside.
November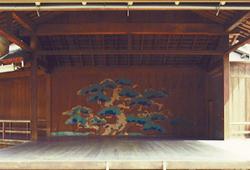 November 3 Culture Day
Korakunoh
Noon to 4 p.m. (starting time may vary depending on the program)
An initiative of the Okayama Prefectural Culture Festival.
This event has been held every year since 1972, which was thirteen years after the Noh Stage was restored. It is greatly helping to spread Noh theater, a classical art, and develop regional cultures.
Sponsor: Okayama Prefectural Government, Okayama Noh Committee
Mid-November to Late November
Special late-night garden opening
Autumnal Fantasy Garden
Garden closing time is extended to 8:30 p.m.
You can enjoy the garden fantastically lit up with candles and illuminations.
January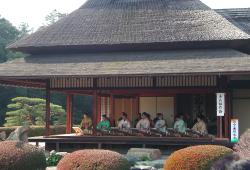 January 1 to 3
Early Spring Festival
Free admission on January 1
This event adds color to the New Year in Korakuen. At Enyo-tei House, you can enjoy events befitting of the New Year such as a koto concert and the release of Japanese cranes, birds that are said to be a good omen.
February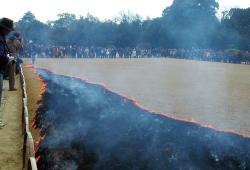 Early February
Grass Burning
1 p.m. to 3 p.m.
This event began in 1965, and it effectively gets rid of pests just as new growth is appearing in the spring.
The brown grass goes up in flames and chars to black, making for one of Korakuen's early spring traditions.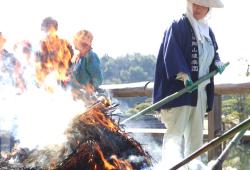 Late-February
Pine Straw Burning
10:00 a.m. to 10:30 a.m.
This event has been held since 1976. The old straw wrapping that was applied the previous autumn is removed and burnt to dispose of the pests that spent the winter inside it.
The burning of the pine straw is said to signify the coming of spring to Kourakuen.
March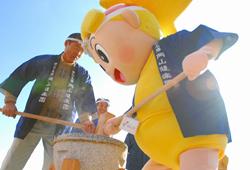 March 2
Garden Opening Commemoration Day
Free admission
In 1884, the Ikeda family gave Korakuen to Okayama Prefecture and it opened to the general public on March 2. In 2000 that day was designated as the memorial day to commemorate the opening of the garden, 300 years after the garden was built, and it became a free admission day.
*The event's schedule and content and subject to change.