Admission
Admission
NOTICE to VISITORS

The prices of the Okayama Korakuen Garden admission tickets will change from October 1st, 2019. The new prices are written in red.
Tickets
Adults

(ages 15-64)

Children

(ages 6-14)

Senior

(65+)

Individual Tickets
¥400


(¥410)

-
¥140
Group (20 or more)
¥320


(¥328)

-
¥112
Combined Tickets
Korakuen + Okayama Prefectural Museum
¥520
-
-
Korakuen + Okayama Castle
¥560


(¥580)

¥260
-
Korakuen + Okayama Castle + Hayashibara Museum of Art
¥960


(¥980)

-
-

-Combined tickets are not available on days when the museums are closed or during special exhibitions, including installation periods. Please check the respective web sites for their schedules.
-Void if the ticket is lost.
-There is no combined ticket for Korakuen and the Okayama Prefectural Museum or Korakuen and the Hayashibara Museum available for children. Admission for children is free at both museums.
-There are no combined tickets for seniors.
Hours
March 20 – September 307:30 a.m. - 6:00 p.m.(entry by 5:45p.m.)
October 1 – March 198:00 a.m. - 5:00 p.m.(entry by 4:45 p.m.)
Pamphlet Download
Pamphlets available in multiple languages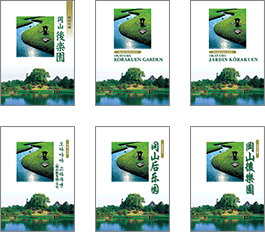 Enquiries
Okayama Korakuen
Korakuen 1-5, Kita-ku, Okayama City 703-8257
Phone: 086-272-1148 Fax: 086-272-1147